26 Jan. 2018
One of the best things about food as a subject in doing art is that even if you get so engaged with the subject, you won't gain any calories from it. You even burn calories from doing this activity. I would love to be able to create an artwork that will bring immediate effect or give a feeling of sensation to anyone who'll see it. There was a group of researchers who demonstrated that the mere sight of delicious food stimulates the appetite. This makes food and drinks a favorite of mine to illustrate and paint.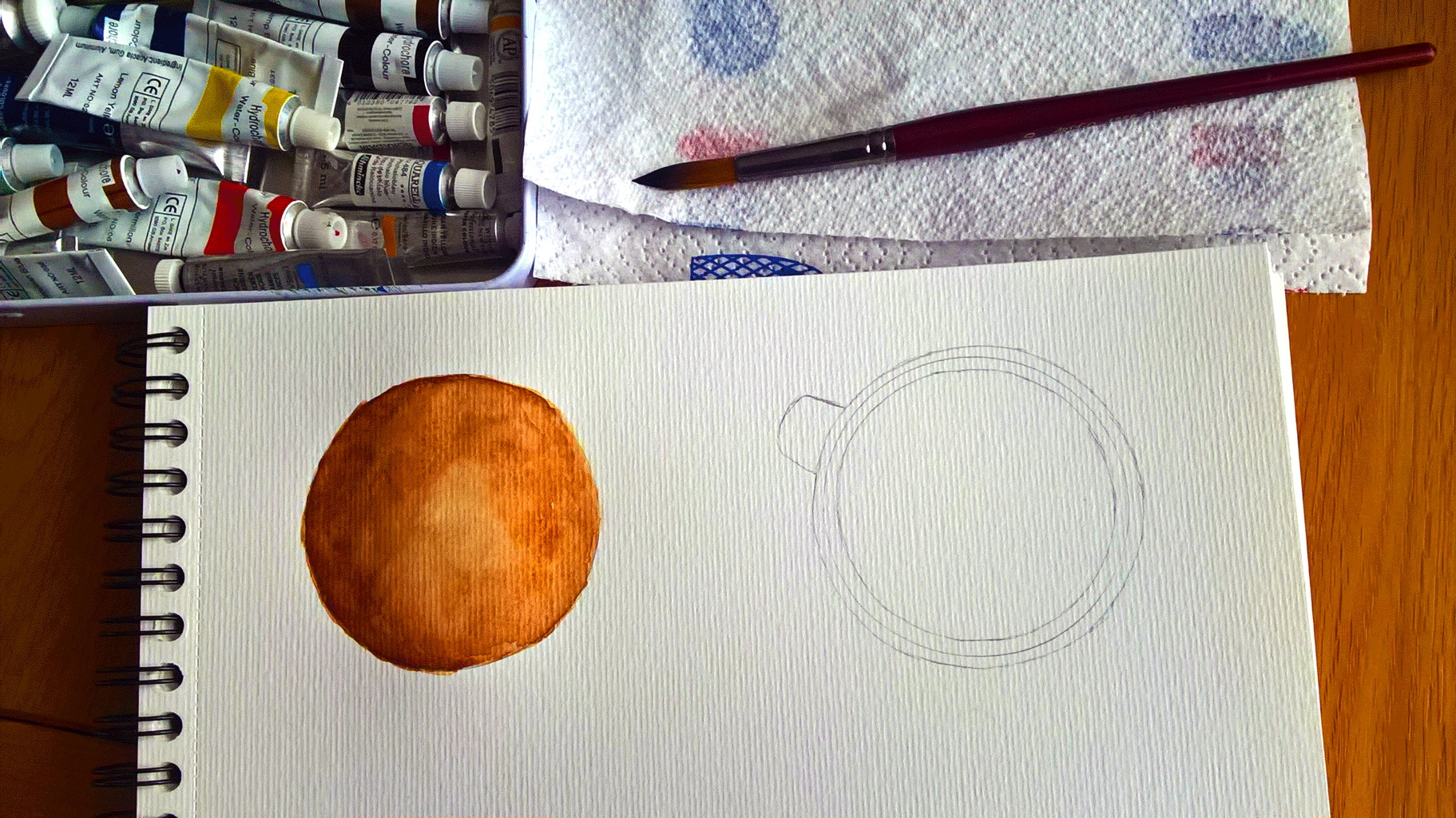 The photo above is my first attempt at doing coffee illustration using watercolor. This exercise was part of one of the online courses I'm taking. Because I can't draw a perfect circle, I just used the rim of a cup to trace it. To imitate the colors of coffee, I chose raw sienna as a base color and applied it using wet-on-wet technique. Once the paper was dry, I then applied burnt sienna and burnt umber to create value.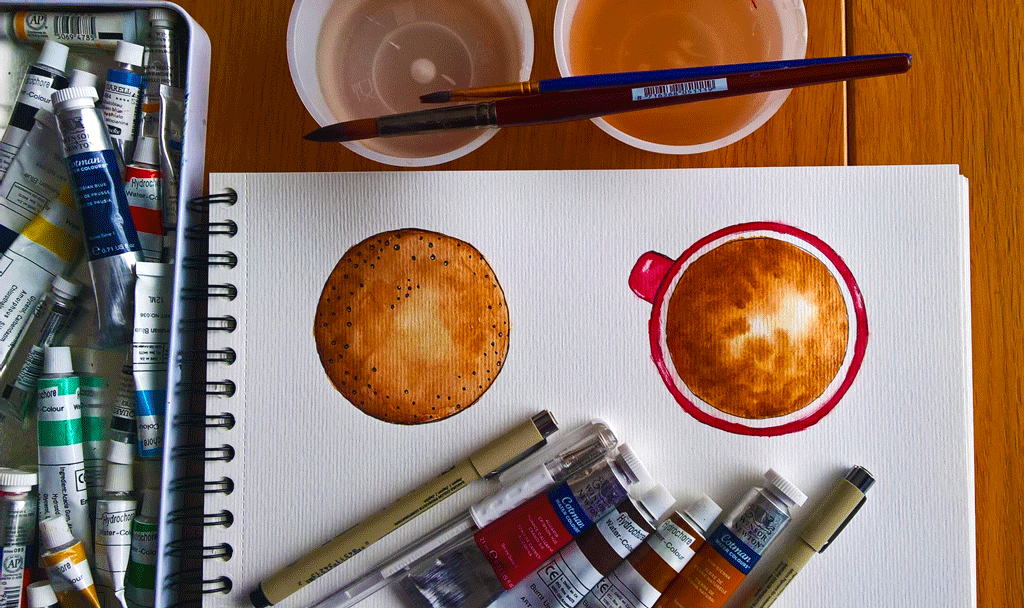 This time I included a cup painted in magenta and some highlights using a white gel pen on some parts of the rim and handle of the cup (see above photo). I also added some bubbles to my first coffee illustration using a sepia fine liner. I think I prefer leaving it without the bubbles, though.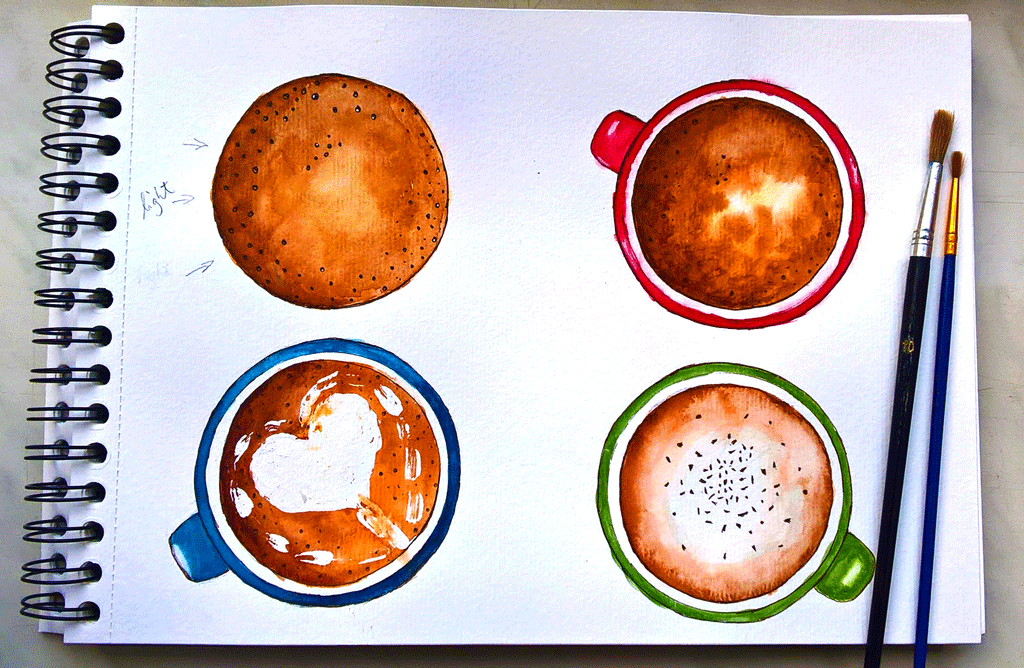 I also painted latte art and coffee with milk froth sprinkled with chocolate powder (see photo above in blue and green cups, respectively). Masking fluid was used to cover the heart shape and other parts in white to imitate latte art. Those tiny, irregular-shaped chocolate powder in the bottom right image was drawn using a sepia fine liner. I've also indicated where the light is coming from so I'd know where to place the shadow and highlights.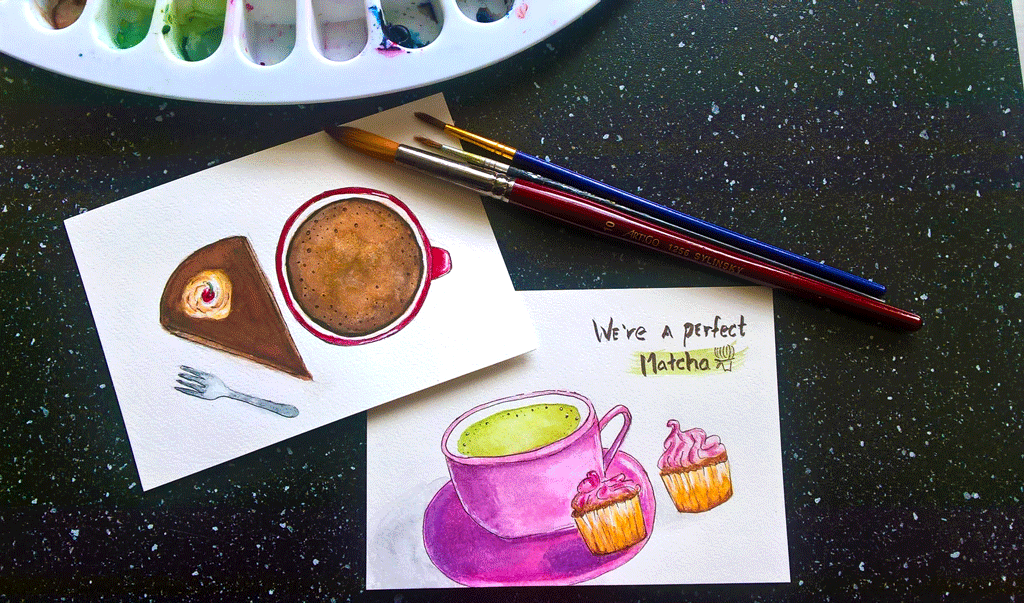 I even tried illustrating a cup of matcha tea and cakes. They're really fun and satisfying to create, so I've decided I'd include these watercolor food illustrations in my listings on Etsy. I'm also planning to do a series of ACEO (art card editions and originals) of these sweet treats and drinks and make them available soon at my Etsy shop. So watch out for them!
Next week I'll share how I sketched the nose and lips in creating a portrait of a female character in pencil. So I'll go back to the topic in my previous post. Happy weekend, everyone!