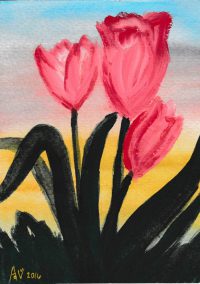 This blank greeting card is an ORIGINAL WATERCOLOR painting and not a print, available at my Etsy shop. The painting has my initials on front and is signed and dated on the back. This can be framed, matted, and displayed or can be given as a lovely gift. Please note that the colors may vary depending on monitor settings and/or screen resolution. And please be aware that this painting is an original piece of art and should not be reproduced in any way. As the artist, I retain both the copyright and reproduction right to all my artworks.
What you'll receive when you buy this card:
- an approximately 4" x 6" original watercolor painting on watercolor paper, attached (as a front cover) to a blank greeting card
- an envelope
- reused cardboard sheet to prevent bending during shipping
- plastic sleeve to protect the card during shipping
If you prefer to buy directly from me, you can also do so. Payment (price of the item + shipping cost) is via paypal.me/ARTleneStudio. Please let me know once payment is made so this card will be shipped to you on the next business day.