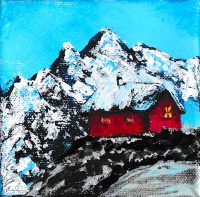 This is an ORIGINAL acrylic painting on 4"x 4" gallery-wrapped canvas available at my Etsy shop.
Display easel (in natural color) is included when you buy this mini painting.
A colorful wall art/home decor to complete the winter ambiance in any room.
Sides or edges of the canvas are also painted or finished.
This painting has my initials on one side.
Please note that the colors may vary depending on monitor settings and/or screen resolution. And please be aware that this painting is an original piece of art and should not be reproduced in any way. As the artist, I retain both the copyright and reproduction right to all my artworks.
If you prefer to buy directly from me, you may also do so. Payment (price of the item + shipping cost) is via paypal.me/ARTleneStudio. Please let me know once payment is made so this painting will be shipped to you on the next business day.